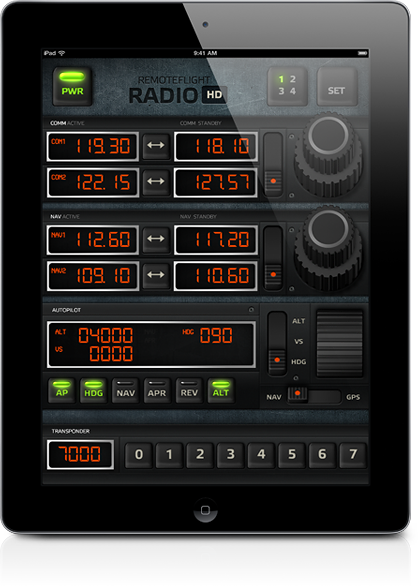 RemoteFlight RADIO HD is the ultimate radio panel for iPad. Period. All your favourite radio gauges in one place, beautifully drawn, animated and programmed with pilot's comfort in mind. Since all gauges don't fit on one screen you can now switch between different gauge layouts, and instantly get the instrument you need. Use multi-touch for more precision or faster scrolling (knob turning) through frequencies. RemoteFlight RADIO HD aren't just our iPhone apps packed together into one. Enjoy it, whether flying online in an airliner, or in your IFR training with smaller aircraft.
Main features
Altogether six gauges in one!
COM1 / COM2 radio
NAV1 / NAV2 radio
ADF 1 and separate ADF2 tuner
DME panel for both NAV frequencies
Autopilot panel with heading selector
Simple transponder panel
Fast layout switching between gauges
Syncing values to and from FSX / FS9
RADIO HD gauge layouts
Product reviews
MANDATORY!!! ★★★★★
A great tool for those who enjoy the FSX. It works perfectly with a negligible delay. Definitely recommended 100%
(translated from Spanish)
Compatibility
Overall compatible with FS 2020 / FSX (SP2, FSX:SE) / Prepar3D / FS9 / X-Plane 9,10 and 11 (both Windows and MacOS X)
100% compatibility with default aircraft. COM and NAV part will also work with payware addons. Autopilot features will not work on payware aircraft with custom autopilot (such as PMDG, LevelD, Wilco etc.).