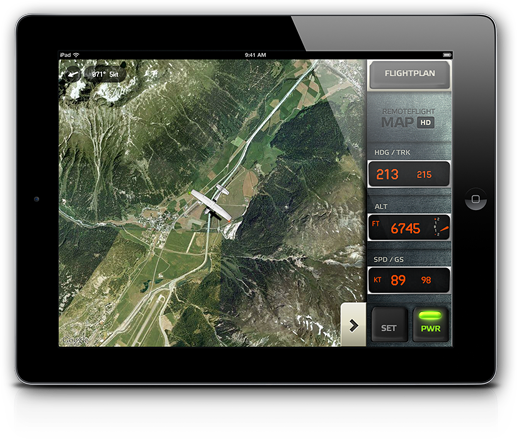 RemoteFlight MAP HD is an ideal companion for long haul flights, as well as a tool for those, who like to explore the world while flying. Dragable and zoomable vector map moves with the aircraft and key flight variables are displayed on side-panel, which you can hide. You can choose from different types of maps, aircraft icons and units of measurement. Now you can sit back and relax, or chat with a stewardess, while still fully aware of the situation in cockpit thanks to iPad with RemoteFlight MAP HD.
Features
Fast updates of flight variables
Fullscreen map mode with minimized panel
Configurable aircraft icons - 6 different aircraft types
Configurable units - feet/knots or metres/kph
Aerial map smoothly animated as you fly
Optional vector map display from Google or Apple
Display any of your FlightSimulator flight plan on the map
In flight plan, display info on each waypoint as you fly
MAP HD aircraft icons
Product reviews
Great app for FSX ★★★★★
This is a great add on to FSX allowing you to view exactly where you are anywhere in the world while flying Easy to install and set up and it's so much better than using the on board gps that comes default with FSX ,only wish I had download it sooner.!
Great app! ★★★★★
All around great app! The moving map is nice. I really love how I can watch my aircraft taxi around airports using the google map/earth layout. Had a problem activating my flight plans but the author provided a fix immediately. Impressed with his great service. Well worth the purchase!
Compatibility
FS 2020 / FSX / Prepar3D / FS9 / X-Plane 9, 10 and 11 (both Windows and MacOS X)
For X-Plane flight plans must still be in MSFS format. This feature only works on Windows with RemoteFlight Server
Works with all aircraft, helicopters, gliders, anything that moves