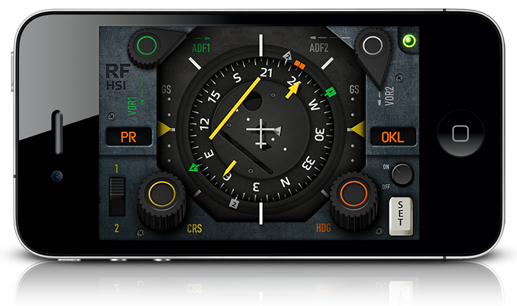 RemoteFlight HSI is full-featured, touch enabled horizontal situation indicator for your Flight Simulator aircraft. Just about anything you may wish from HSI is there for you to use. All parts of the instrument are smoothly animated and the whole experience is simply breath-taking. Just take a look at the app video to see how cool this thing is.
Features
Smoothly animated fully custom HSI gauge
NAV1 a NAV2 source for ILS/VOR/DME
Adjustable omni-bearing selector
Adjustable autopilot heading bug
Two directional markers for either VORs or NDBs
Station ID and DME (if available) display
Tuning indicators to show when each NAV source is unavailable
Product reviews
iTunes reviewer (USA)
Having only watched the video, with very first use, I was able to do an ILS approach to Niagra Falls (KIAG) under heavy fog with FSX on full screen and this as my only instrument. After downloading the free server interface, installation and setup was quick and easy. Not only is this a highly functional instrument on multiple levels, it is a thing of sheer beauty! There is a minor response lag between this and the on-screen HSI, but it certainly did not impact my ability to successfully shoot an ILS approach under extreme circumstances in a GA twin turbine. Having now seen what this app can do, I sure hope that there are other flightsim apps soon the horizon.
iTunes reviewer (UK)
Worked perfectly first time, smooth HSI animations with no lag that I could see! Easy to select headings and radials which is difficult in fsx unless you have bought £100's of equipment! Well worth the money and very glad I bought it! Have also bought the Nav tuner and both can be used at the same time using the same phone by swapping the active app. Well done to the developer!
iTunes reviewer (UK)
Works great, the ui on the iPhone 4 is breathtaking so well constructed !
Compatibility
Compatible with FS 2020 / FSX / Prepar3D / FS9 / X-Plane 9, 10 and 11 (both Windows and MacOS X)
Works with all aircraft with radio - default or addon
Works with all default aircraft with an autopilot
Limited functionality with advanced addon aircraft with custom OBS and autopilot