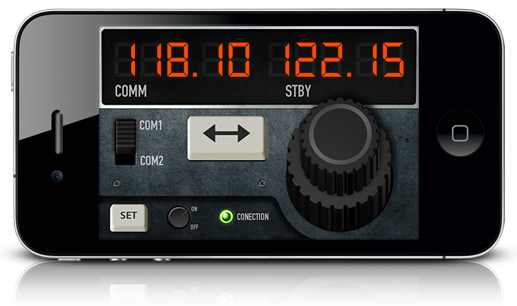 RemoteFlight COMM is our first gauge in line, showcasing the basic ability of the concept and RemoteFlight ecosystem. It replaces the radio panel of any Flight Simulator aircraft, and enables you to control communication radio using your iPhone or other iOS compatible device. This is really a basic gauge but delivers with greatness. There`s nothing like having this crucial instrument right by the grasp of your fingers and always in sight.
Features
Connects smoothly to your Flight Simulator
Synchronizes with Flight Simulator radios instantly
Works just like the real thing
Turn the bigger wheel knob to change whole numbers
Turn the smaller wheel knob to adjust decimals
Press swap button to send the change to Flight Simulator
Compatible with all aircrafts with a comm radio
Perfect for online flying on VATSIM or IVAO
Product reviews
iTunes reviewer (UK)
Ever since I received my iPhone I was constantly trying to look for new ways to have something from Flight Simulator X on my iPhone, I first tried a monitor extender application but that didn't work so well, I then tried an application that sent altitude and heading information over the Internet but that was all very delayed. Then I found exactly what I was looking for, RemoteFlight! I opted for the Comm application and wow, I sure am impressed. This application has great Retina display functionality, the graphics are very crisp and clear. The ability to send the data over a local network is second to none and something previous apps have lacked, and best of all there is no delay at all! If I had to pick an improvement it would have to be the ability to see live standby frequency changes, at the moment you only change the standby frequency on the app and it pushes it into active in the sim when you press the swap button.
iTunes reviewer (Spain)
It works very well, it's an excellent application.
iTunes reviewer (Switzerland)
Einfach gut. Integriert sich super, funktioniert reibungslos, und ist sehr nützlich. Danke
Compatibility
Compatible with FS 2020 / FSX / Prepar3D / FS9 / X-Plane 9, 10 and 11 (both Windows and MacOS X)
Works with all aircraft with radio - default or addon