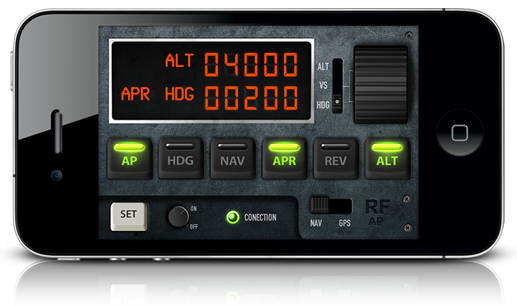 The title says it all, this gauge replaces generic autopilot panel and delivers features like HDG, VS, NAV, APR. All standard autopilot functions from FS9 and FSX default aircafts are available in this gauge. We've even added some features that are not present on classic Bendix/Kind, but we thought would be useful to be able to control heading or NAV/GPS slaving from this panel.
Features
Complete default autopilot replacement
Heading and altitude hold
Climb/descent with vertical speed hold
Approach / NAV hold
Approach works with VOR or ILS (with glideslope)
Additional NAV / GPS slaving switch
Additional setting of HDG hold direction
Product reviews
iTunes reviewer (Germany)
Very usefull tool for the FS ,especially if you still wanna have control when your not next to your computer. The RemoteFlight Map is also very useful!
iTunes reviewer (Belgium)
This is a great app for all fsx users!!!! I had a little conflict with my antivirus program but thanks to the great and fast feedback support from the builder of this app I had this running in no time!!! Thx again for helping!!!:))
Product help
Compatibility
Overall compatible with FS 2020 / FSX (SP2, FSX:SE) / Prepar3D / FS9 / X-Plane 9,10 and 11 (both Windows and MacOS X)
Works with all default aircraft with autopilot
Limited functionality with advanced addon aircrafts with custom autopilot, especially airliners such as PMDG.